Meeting with Ms. Lena Maria in Osaka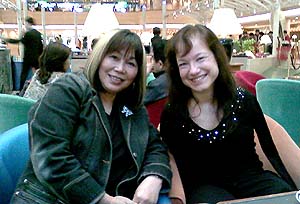 On Oct. 20, 2007, Nami-ne had a lunch meeting with Ms. Lena Maria at Hotel New Otani in Osaka. Lena, a female singer with a beautiful voice from Sweden, held several concerts in the Kansai area recently including a great perfomance for our Challenged Japan Forum International Conference in Tokyo, 2006, on her last visit.
Initially planning to meet with Lena in her room, she was kind enough to greet us in the hotel lobby instead. Being a year since our last meeting, we had a great time catching up over coffee and sandwiches. All the while in which Nami-ne was 'knocked-back' by Ms. Lena's charm during their get together.
Lena eplained how she loves Japan and enthusiastically told Nami-ne that she would love to hold concerts here next year as well, and hopes to record a music album containing several Japanese songs in the future. Nami-ne expressed her eagerness and support of the future concert as well as the idea behind her new CD album.
We look forward to strenghening our already great relationship with Lena and will be looking forward to seeing her again.
If you want to know more about Ms Lena Maria, Please visit her website ' Lena Maria'.