Prop Station's ICT Workshops for Students with Special Needs
October 16, 2009
Recently, ICT (Information & Communication Technology) has become a significant tool for people with disabilities. We at Prop Station hold various ICT seminars at both our Kobe Network Center and our Tokyo office to teach these skills to those who are disabled but have a willingness to learn and wish to implement ICT into their daily lifestyles. Because whether it's used for work, fun or communication, ICT can provide a variety of benefits to those who posses it's knowledge.
This year we held a workshop catered to students who are attending schools designed for children with physical, mental and developmental disabilities. "The Summer Vacation ICT Workshop" took place at our Tokyo office during the final days of August. 17 people including students with special needs and their families participated. A popular instructor from our Kobe office Mr. Toshimi Okamoto, who controls the mouse with his foot due to the immobility of his arms, served as the instructor.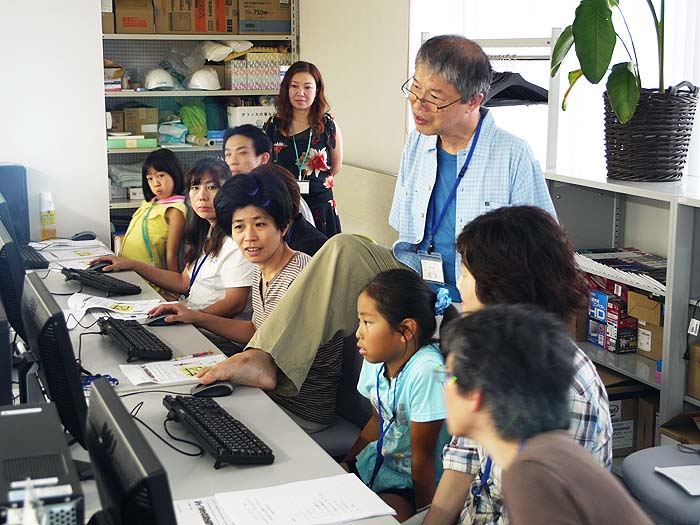 Mr. Okamoto controlling a mouse by his foot
During this workshop that was held for 3 consecutive days with 2 hour lessons each day, students experienced how to create Word documents and Words artworks through the teachings and guidance of Mr. Okamoto. Twenty-three employees of the Japan Microsoft Corporation also joined as volunteer instructors and assistants and taught the students how to create panoramic photographs using Windows Live Photo Gallery and also how to animate slide shows using Movie Maker.
Twenty-three employees of Japan Microsoft Corporation served as instructors and assistants voluntarily. Students and their families got a chance to meet and converse with people working in the front line of ICT and I strongly believe that the workshop provided a great experience to all who participated.
The Challenged students, who ranged from 7th to 12th grade, attend schools where the special needs of those enrolled include various conditions such as mental retardation, autism, and developmental disabilities.  These students all showed interests in computers on a regular basis at these schools and had a serious manner about them while participating in the workshop.  I was amazed at their achievements as I myself don't posses any computer skills at all.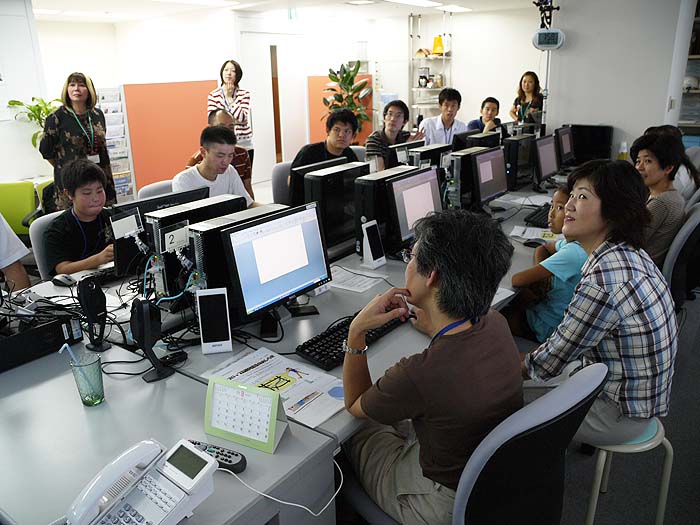 A scene from the workshop.
A middle-school student from Chiba got nervous because of the great number of people in the venue and could not take part in the workshop alongside the other students. One of the volunteers who happened to bring a lap-top computer, kindly taught her the graphics program outside the venue where she felt more comfortable. Two hours later, she produced a beautiful artwork and went back home with her mother beaming with smiles.
Since then, Microsoft Corporation has taken the opportunity to form a volunteer group where employees are encouraged to continue charitable activities dealing with the various array of ICT programs.


The panoramic photographs developed by the students with Windows Live photo gallery, a software offered by Microsoft Corporation to the students free of charge.
Please click on each photo for its enlargement.
At our Kobe Network Center, we have been providing ICT workshops for students belonging to schools designed for children with disabilities for 2 years. These programs count as part of the school curriculum and students with various types of disabilities such as physical disabilities, mental retardation and blindness have greatly improved their computer skills.
It is my will to continue to provide the Challenged with various types of learning opportunities and accommodate them with the teachings they desire to better themselves and their future.
<by Nami>