My Daughter, Maki's 36th Birthday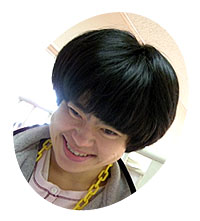 February 2, 2009
It's Nami (Nami-ne)! Today (February 2) is my daughter Maki's 36th birthday!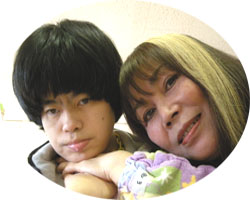 With my daughter, Maki, at the National Aonogahara Hospital
It' s the year of the Ox and yes, this is her "Toshi-onna" year.(a term in reference to women whose Chinese zodiac sign coincides with that of the present year). As her mother, I am looking forward to joining her birthday party in the hospital ward on February 5. Not only has she recently shown me a lot of smiles but she has also been very expressive.
I am not sure whether she knows her name or not. However, she gives me a great smile with her sparkling eyes when I speak to her in her ear, "Hi. Maki. It's mom." I am walking on air whenever she shows me such a beautiful smile. What makes a mother happy is her child's smile, no doubt about it.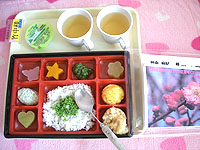 Spring Lunch for Maki's birthday.
Doesn't it look Delicious?
I went to see one of our challenged workers who has cerebral palsy in the hospital yesterday. He pushed himself and came to Prop Station to work despite his serious disabling condition and his parent's opposition to his desire to work. His condition got worse because of it and he was required to have surgery. I suggested that he should work at home but he came to work here saying he was not allowed to use even his computer at home. He experienced pains and aches in various parts of the body almost a year ago, and he got a nerve block injection in order to work. He was hospitalized just as I was about to meet his parents and ask them to support him to work at home.
When I visited him I realized the reason why his parents did not want him to work was because they worried so much about their only son's physical condition. According to his parents, they did not know how much his work was relied on by others in the workplace. They assumed that his desire to work stemmed from rebellious feelings that he had toward them. I realized that he thought he would never be able to be independent because he felt that he was tied down by his family when he saw his parent's negative feelings and attitudes toward him working. This conflicting feeling is what caused him to become more obstinate and continue working at Prop Station.
A fellow female staff member accompanied me when I went to visit him. His parents looked really affectionate. They gazed out benevolently to their son on the bed who was immobilized with equipment for treatment. The guy and his parents nodded with red eyes and tears when she and I talked to him, "We know it's hard on you, but now you should be patient and concentrate on treatment. We will work together again when you get better." Then I said to him, "You can work in a way that you don't need to put too many demands on your body next time when you come back to work." His parents bowed deeply to me and said to me "Thank you".
His mother happily told me that she shaves for him every day now because he has a dense and fast-growing beard. "I've never thought that my mother would be shaving my face at this age." What he said to me with his bashful smile remained in my heart the most. "How wonderful a parent-child relationship is!" I was filled with renewed emotions.
No matter how old your child gets, regardless of whether or not they have a disability, there is nothing happier than the connection felt when a parent and child touch each other's heart. However, we sometimes experience a strained relationship due to little misunderstandings. I believe such a soured relation happens precisely because we are parent and child.
I left the hospital wishing him a speedy recovery and engraving my 36-year-old daughter's smile into my heart again.
by Nami-ne
For more information including directions, please contact us at kondou@prop.or.jp