Introducing a Professional's Technique to People with Disabilities.
Developing resolutions to difficult employment situations and supporting work skills.
Employment opportunities for people with disabilities have been significantly affected due to the economy crisis. However, some efforts to progress the development of work skills for people with disabilities have continued. One such program that exists does not provide employment for the challenged but instead helps them to improve their vocational skills by providing facilities and know-how through sponsoring corporations and support through the efforts of professionals.
[Report and photos taken by Masanao Umezaki]
6/30/2009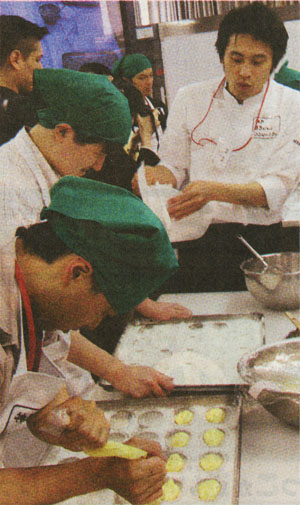 People with disabilities learning professional
techniques from Master Takahiko Nozawa
(At the Nisshin Seihun Group Inc.Factory
Processing Center in Chuo-ku, Tokyo)
From pastry chefs
Wearing matching aprons and green bandannas around their heads, the students beamed with smiles.
The Kobe Sweets Consortium in Tokyo (hosted by Prop Station, a social welfare organization)was held at one of facilities in Nisshin Seihun Group Inc in Koami-cho Nipponbashi, Tokyo mid June. During these classes, professional pastry chefs will divulge their honed pastry making techniques to eager participants all of whom have had prior involvement in pastry making at sheltered workshops, and all of whom have been diagnosed with psychiatric disabilities as well as mental retardation.
This day was the first day of the 6 session program. Eight students who were selected through their applications participated. There will be 4 instructing pastry chefs during these sessions, including Master Junji Yagi, the technical director of Morozoff Ltd.
After all the ingredients for the madelines were measured and mixed, the batter was poured into molds and then placed in the oven. Although the baked madelines should have all roughly had the same shape and consistency, a few of the bakers results showed slight signs of discoloration or deformation.
One of the students, Mr. Eiichi Morita said, "My performance was a little off in making these madelines. The way to make them is completely different from the style I normally use to make pastries. I learned a lot".  Master Takahiko Nozawa, a chef of the Viennese pastry shop "Konditorei Neues" in Yokohama, mentioned about the effect of instructing. "By contriving ways to incorporate a relationship between the duties and procedures required in pastry making, they can undoubtedly become pastry chefs in the future and be recognized for their talents rather than their disability".
Through this program the students will acquire professional pastry making skills in order to improve the quality of pastries produced in their sheltered workshops leading to the eventual goal of increased market sales. Support for the program is provided by sponsoring companies such as Nisshin Seihun Group Inc. in Tokyo and Nitto Shokai Co., Ltd in Osaka.
Nisshin Seihun Group Inc. provides flour as a service for the program while Nitto Shokai provides other necessary ingredients and helps the sheltered workshops in which the students belong, to find new sales routes for their products. These companies have played roles for developing work skills for people with disabilities through their main business. Introducing professional know-how, work ethic, and practical corporate awareness are some of the significant ways that the companies and professionals have contributed to the challenged society and to individuals with disabilities.
A DVD package of the Kobe Sweets Consortium, "How to Make Delicious Pastries", is now available (5000yen). We offer the DVD for half of the conventional price to those who are involved in pastry making at sheltered workshops or other social welfare organizations. Please feel free to contact Prop Station at 078-845-2263.