The Special Report
-Nami-ne was Invited to the Spring Garden Party-
4/21/09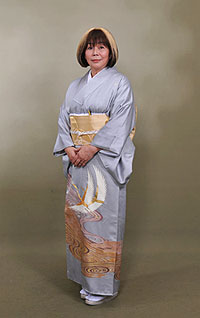 At a photo studio
On April 16, I was invited to attend the Spring Garden Party at Akasaka Gyoen hosted by their Majesties the Emperor and Empress. The weather on that day was like the beginning of summer.
I was told in advance the dress code for the party was a visiting dress for women and a tuxedo for men.  I said to myself, "I wear jeans all the time, so it would be a good chance for me to wear kimono".  My niece (her mother was a kimono-dresser) who lives in Kyoto introduced me a kimono shop.  For the first time in my life I wore formal ceremonial clothing while attending the party.
The ceremonial kimono was decolated in an all chic gold-gray and had sleeves patterned with the courtship dance of glamorous gold cranes. (The kimono was rented one from the shop,of course. LOL!)  I got help getting dressed at the beauty shop on the 3rd floor of the building in which the office of Prop Tokyo is located, and took some commemorative photos before leaving for Akasaka Gyoen.
I arrived in Akasaka Gyoen by car.  A gate attendant clipped my name tag on obi as I entered. I couldn't believe there was such a large, clean, and tidy Japanese garden in Tokyo.  Although the garden was crowded with many people, there was a serene atmosphere at the festivity that sanctified my soul.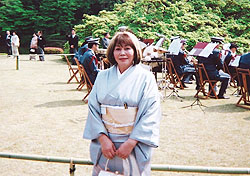 In Akasaka Gyoen
The vast majority of the guests attended the party with their husbands and wives.  I came here alone and asked a person with a name tag "Imperial Household Agency" to take some photos of me.  He took my photos with the garden in the background for me.
Fortunately, I was allowed to stand the next to the special guest corner and I was able to closely watch Professor Makoto Kobayashi and Professor Toshihide Masukawa, winners of the Nobel Prize, Professor Shinya Yamanaka who developed iPS cells, Ms. Kaori Momoi, an actress, Mr. Toru Hashimoto, the governor of Osaka, and Ms. Aiko Uemura, a mogul skier who were talking to the Emperor and Empress with small microphones.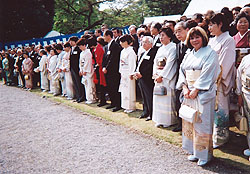 Next to people who are familiar on TV
I decided to talk to the Emperor and Empress as well since I was in a good location to do so. When I sent my congratulations to the Emperor for his 50th anniversary of marriage, he smiled at me and replied, "Thank you."  I then said to the Crown Prince walking next to the Emperor as our eyes met, "Thank you very much for inviting me."  He asked me where I was from.  I replied, "I am from Kobe. I saw you at Hieki's 100th anniversary event held in Kobe last year.  Thank you for visiting there."  Then he smile at me and said, "That was a nice event."
Being able to talk to the Emperor and the Crown Prince, I fully gathered my courage to speak to the imperial family.  I spontaneously spoke to Empress Michiko who stopped in front of me.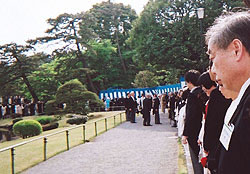 The Emperor in a distance
(Nami-ne)"I have made my endeavors in a social welfare organization named Prop Station for people with disabilities to acquire various skills in fields such as computer and confectionary making in order for them to be able to get involved in society.  The pastry making project particularly has collaborated closely with Nisshin Seihun, and people who have mental retardation and emotional disabilities have worked toward being professionals in the confectionary industry."
(Empress Michiko)"Oh my goodness! You have worked with Nisshin Seihun?  I hope that they have been able to help out a little. "
(Nami-ne)"The chairman, Mr. Syouda (Empress's brother) and all employees at the company have given full support to the project.  I will be keeping up my efforts with the projects like these and with the many people whom I have met through my daughter who has severe disabilities."
(Empress Michiko)"Please continue your great and warmhearted works in the future."
(Nami-ne)"Yes.  Thank you.  Is everthing all right with your knee?"
(Empress Michiko)"Yes.  Thank you."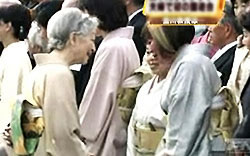 Talking to Empress Michiko
When she talked with me, she realized Finance Commissioner Sugimoto and his wife were standing at the back of me and spoke to them. "Thanks for a job well done." This was their 3rd time attending this event.  They were the persons who asked me to come to the party and told me that when I spoke to the Emperor and Empress, I would get a response. After Empress Michiko passed through, they said to me encouragingly, "It was good to bravely talk to them.  Good luck for your future endeavors, Nami!"
Akishino-miya and Princess Kiko walked through next.  Akishino-miya looked at the "Telecommunication Council Committee" written on my name tag.
(Akishino-miya)"Are you working for telecommunication?"
(Nami-ne) "I have made endeavors to help people with disabilities to acquire computer skills and get employed for 20 years."
(Princess Kiko) "For 20 years?"
(Nami-ne) "Not only do these people work with computers, but some of them also have careers in the field of arts such as painting.  I saw the two of you came as guests to the exhibition held by artists with disabilities on Gyokou Street last year.  Thank you very much for coming."
They looked at each other and nodded with smile, "Oh yes.  It was on Gyoukou Street at Tokyo Station, wasn't it?"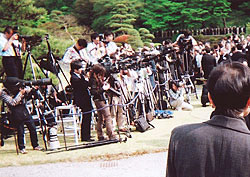 Assembled press corps
Princess Hisako Takamado-miya walked at the end of the row.  When out eyes met, I involuntarily waved my hand to her as we had just seen each other at the United States embassy.  She waved me back saying to me、"Oh hi!".  She then came to me with her smile and said, "Again congratulations on your honor of receiving the award. " 
(Nami-ne)"Thank you very much for everything during our time together at the United States embassy.  I've heard that your daughter enrolled in a university to study social welfare through news."
(Princess Hisako)"Thank you.  I'm happy she was accepted without any trouble."
(Nami-ne)"Congratulations."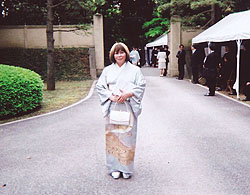 Leaving Akasaka Gyoen with the gift
It was 3:00PM when I finished talking to the most of the imperial family members.  I knew there were food stalls and so many delicious foods including popular  "Yakitori".  However, l left Akasaka Gyoen without eating anything as I was afraid of getting my kimono dirty.  The gift that I received at the exit was a set of five Kikuyaki Zangetsu, Japanese-style confectionary with the Chrysanthemum Throne emblem.
After attending the Spring Garden Party, I felt that Japanese people have had a deep feeling of respect and closeness to the imperial family that cannot be explained by a word and theory, and the imperial family has truly cared about the citizens in public affairs.  I realize that Japanese overcame defeat in war and the age of poverty after the war through the relationship with the imperial family.
With staffs at Prop Tokyo
I hope we can maintain this relationship with the imperial family in the future because it is this relationship that has been the basis of the way of living and the concept of values of Japanese people for a long period of time is now being lost.
This concludes the report of my first and very meaningful experience at the Spring Garden Party.
by Nami-ne