An Announcement of Nami-ne's Next Live Concert:
"Rokkou Island Live"is being held in commemoration of my award of the Municipal Government Contributor in Kobe city's 120th Anniversary Celebration.
7/7/2009
It's Nami-ne. Although the weather has been gloomy during this rainy season, I hope everything has been going well for you all. The swine flu scare has quieted down here in Kobe and a lot of events and campaigns are being planned in order to empower its citizens and progress the economy that was significantly affected due to its presence.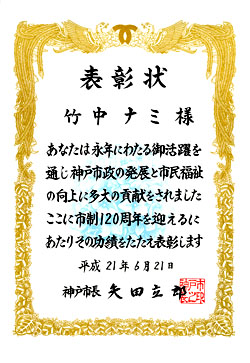 The Municipal Government
Contributor Certificate
I received the honor of the Municipal Government Contributor as someone playing a part for the development of the city in Kobe city's 120th Anniversary Celebration in Nishiyama Memorial Hall in Chuo-ku, Kobe on June 21. As well as Tokyo and Osaka, Kobe was given the status of a city in 1889 and this year marks the 120th anniversary since Kobe was recognized as a city.
Although this city had many hardships to overcome, such as the major flood disaster in 1938, the Great Kobe Air Raid in 1945, and the Great Hanshin Earthquake in 1995, Kobe is surrounded by the ocean and mountains, and is truly a lovely town that is richly endowed with nature. I love this city from the bottom of my heart and it pleases me greatly to receive an award from the place I hold so dear. I will continue my efforts in helping Kobe as much as possible so that it can always be a lively and developing town.
So Nami-ne's band performance at "Rokkou Island Live" was put on ice because of the recent swine flu outbreak, but the event will finally be held on July 11th. This concert is also in gratitude toward the award of the Municipal Government Contributor for Kobe city's 120th Anniversary Celebration and I will sing my songs to my heart's content.
The concert will be held at the Italian restaurant, IL ARTISTA which is on the 1st floor of the Kobe Fashion Mart. It is there where you will enjoy original Italian food and the musical performance of Nami-ne's band.
I will also sings the songs titled, "Thank you"and"A World- like-Prop"from my first single CD "Thank you~from Me to You~"that was released in April and has been received well.
I have big news! Joy Sound, one of the largest karaoke boxes, will have my first single CD "Thank you~from Me to You~"available in August and you will be able to sing the songs at Karaoke in all Joy Sound karaoke boxes and other karaoke bars throughout Japan. I got courage and livelihood through the news. (I will provide you detailed information when the songs are available in the karaoke boxes.)
I hope some of you who really love Karaoke would request my song, "Thank you" when you enjoy karaoke at Joy Sound.
Mr. Ichiro Nagayoshi will be invited as a special guest for the concert. Being a drummer of rock music, he is sure to liven up our event. You will also enjoy the vocals of Seki Koji who composed "Thank you"and"A World- like-Prop".
I hope that as many people as possible will come and enjoy the live concert.
by Nami-ne
Detailed Information for the Concert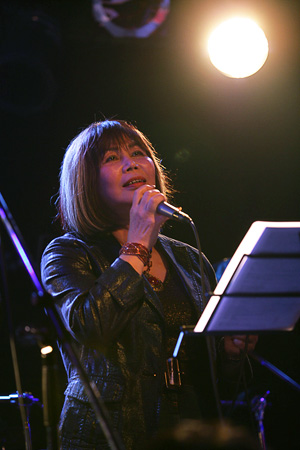 Nami-ne at the Kobe Varit
Date:
12:00PM on Saturday, July 11(Doors open at 11:30AM)
Place:
The Italian Restaurant, Il Artista
Kouyo-cho naka 6-9 Higashinada-ku Kobe
Kobe Fashion Mart 1F
TEL:078-846-4649 FAX:078-846-4659 
Guests:
Nami-ne's Band
Nami-ne (Vocal), Koji Seki (Guitar), Emy (Keyboad), Cliff (Base), Poo-yan (Drum), and Roberto Kajiya (Percussion)
Special Guest:
Ichiro Nagayoshi as Bonzou (Drum) 
Fee:
The lunch buffet including free drink at Il Artista 3000yen
(Advance-purchase) 2500yen