Pursuing self-reliance with sweets---training the handicapped to be patissiers
A gathering took place in Tokyo to train people with disabilities to be patissiers. Top patissiers at popular sweets shops instructed the handicapped. Those who took part in the event were eager to learn skills to make tasty sweets. We report on the status quo of the disabled in Japan and their struggle for self-reliance.
7/3/2009
The Radio Japan Focus Report
Master Junji Yagi who was interviewed by NHK World while instructing his skills to the students (in the middle).
You can listen to the radio when you click on the image.
Sheltered workshops exist across Japan for people with disabilities who have difficulty finding work elsewhere. Many of these workshops turnout cakes and pastries but sales have been poor because of the lack of professional skill and from the lack of marketing knowhow. As a result, disabled people tend to earn less than 1/20th the average monthly wage, which isn't enough to live on. That's why efforts are under way to teach professional cake and pastry making skills to disabled people, so that they become more self supporting. In today's edition we focus on efforts to help disabled people, who wish to become pastry chefs.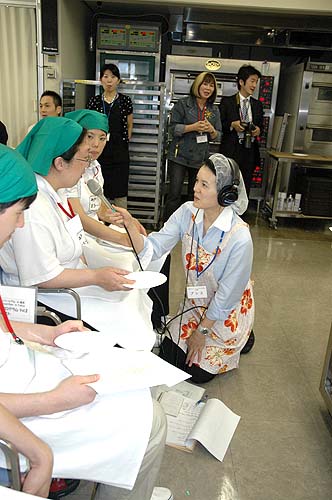 The students who were
interviewed by NHK World
A cake and pastry making course was held in Tokyo late June that was organized for disabled people. In attendance were seven students with mental disabilities who work at workshops that produce bread and pastries. The course was taught by some of Japans leading pastry chefs. On this particular day, the students were taught how to make madelines. Tiny cakes backed in shallow shell shaped molds. Ingredients such as eggs, melted butter and sugar were added to the flour, and the mixture was then poured into the molds. The pastry chef explained the recipe with a practical demonstration. The students focused on what the chef was doing, and watched the exact timing for adding the different ingredients, and the angle at which the whisk should be held. The students then tried the recipe themselves. They were given various tips on how to sift the flour and pour the mixture into the molds, things which aren't taught in cookbooks.
A crucial point for madelines is getting the melted butter to the right temperature. The melted butter should be cooled to about body temperature, any lower and it would solidify and require too much mixing with the flour which would incorporate too much air into the mixture. The resulting cakes would have a crumbly surface, rendering them unsuitable for sale. The students had the newly baked madelines before them and were asking the chef all kinds of questions, such as their shelf life, and what flavors can be produced by different kinds of flour. We spoke to some of the students.
"I normally make cakes at the workshop but I'm participating in this course in order to learn to make something different. I learned a number of things regarding the temperature of butter and paying attention to various details."
"I wanted to run my own cake shop since I was young, that's why I took part in this course. Once I go home, I'll have to practice to see if I can reproduce what I've learned here."
Junji Yagi is a pastry chef who taught this class. "They were more enthusiastic than I expected, some of them had already written down the questions they wanted to ask. They were tense at first, but relaxed as we went along, and they gave the impression that they were enjoying it."
The course was organized by the Kobe base welfare group Prop Station. It's headed by Nami Takenaka, the mother of a disabled girl. Prop Station helps disabled people find work so they can display their talents, no matter what their disability is. "Many workshops for the disabled are simply charities selling bread and sweets, but there are very few places that can turn out quality goods to match that found in average cake shops. I felt we needed to teach skills to make cakes and pastries that are genuinely tasty, that will please customers, and allow the disabled to become financially independent."
Few disabled people get to pursue higher education, or find employment once they finish grade school, and consequently work at workshops that exist across much of Japan, which have been created by local governments and parents of the disabled. The disabled tend to commute from their parents homes to these facilities that produce bread, cakes, and pastries. However, very few of the instructors at the workshops can impart professional cake and pastry making skills. The lack of funds means many places are only equipped with household ovens which can't regulate temperatures to the same standard as professional use ovens, which in turn increases the risk of failure or substandard product. Many of the cakes and pastries are inferior in taste and appearance compared to what's generally available elsewhere, meaning the workshops can only generate a limited amount of revenue.
Disabled people working at these facilities tend to earn per month about 12,000 yen, which is about 120 dollars. But even when the disability pension from the government is added it really isn't enough money to enable disabled people to leave their parents homes and live on their own. Nami Takenaka asked some pastry chefs to help the disabled workshops generate more sales by turning out products superior to what can be found in an average cake shop. Junji Yagi and three other renowned pastry chefs agreed to volunteer their skills. Junji trained in Austria, and in 1980 became the first foreigner to earn the Master of Patisserie Accreditation recognized by the Austrian government.
Junji has an intellectually challenged son and is also concerned about helping disabled people become more independent. "Very few disabled people can get into pastry making schools, even if they are keen to learn. I became a teacher so I could help the people who want to learn. I want to help them produce pastries and cakes that people will want to buy because they taste good, not from any sense of charity."
"Potato"is a Kobe based workshop that's benefitted from professional guidance. It produces cakes and cookies which it sells at its own coffee shop. None of the staff initially had any experience in cake making and had to rely on recipes they downloaded from the internet. The workshop often found it couldn't get its cakes to rise. There were a lot of mistakes and the flavor of its products where erratic. Hitomi Yasufuku heads the workshop. "We were teaching things to the disabled even though we lacked confidence in what we were doing. We were really worried about whether the finished products would taste alright. We couldn't ask people to buy them with any confidence."
Two disabled people at the workshop last year, attended a pastry making course. The cookies and pound cakes they learned to make at the course were added to the menu this year. The biscuits and cakes are made faithfully to the recipes in only the finest ingredients. They've proved popular, and the workshop has received many orders from people who want to present them as gives. The workshops are 20% increase in sales.
Tomohito Utsumi attended last year's course. "I'm happy when our customers tell us that their pleased with the taste. I'm thrilled that the products have been able to sell in stores and generate more income."
Tomohito has taken a different approach to his work since attending the course. Instruction from professionals has inspired confidence to buy books and try out various recipes. "I want to play an important role in teaching others the skills I have learned. I have been able to dream of opening my own coffee shop since attending this course."
Hitomi Yasufuku is hopeful that pastry making skills can help disabled people earn a livelihood. "We would like to spin off pastry making from the cafe and establish a cake shop. If we can generate more sales, we'd be able to buy better ovens and pay our people more."
Prop Station, the welfare agency group that organizes the pastry making courses, also wants to help disabled people open up new sales routes and open their own businesses. Here again is Nami Takenaka. "We want to help the workshops become self supporting cake shops, where people can work and earn an income and contribute to society. Disabled people can develop a lot of pride when society asks something of them and when they can give happiness to others. A disability shouldn't be the cause of embarrassment. Disabled people should be able to work with pride as pastry chefs."
from "The Radio Japan Focus Report"on July 3 in Radio Programs of NHK World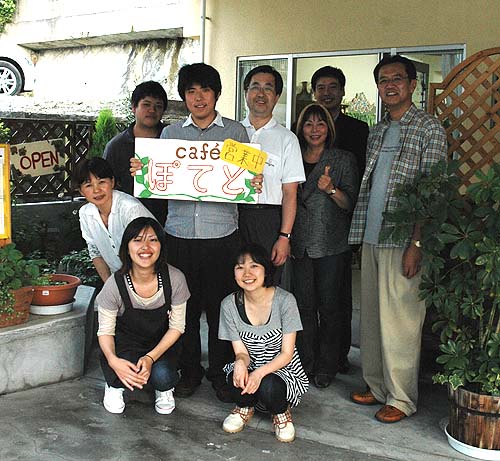 Nami-ne, Master Yagi (in the middle), and people who work at Café Potato