Lena Maria Concert was Held on 10/18/2008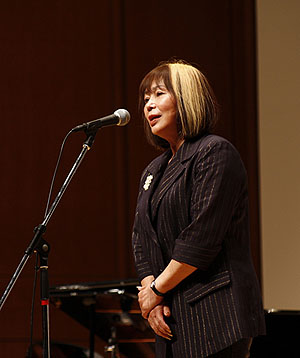 Opening Remark by Nami
The Lena Maria Concert held on Oct 18 was a great success! The full house audience of 1,100 was rewarded by Lena's beautiful voice that captivated everyone and left them in awe as they were glued to their seats.
Messages we received from the challenged and their families, such as "This is the first experience where we could enjoy such a full-scale concert like this as a family! Thank you!", brought smiles to our face.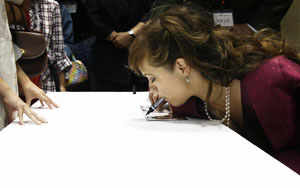 Lena Signing Autographs
Following the concert, Lena Maria sat down to a fifteen minute signing session to promote her new CD. However, what was supposed to last fifteen minutes ended up lasting and hour and a half due to the steady stream of fans lining up for the chance to meet the inspirational singer. Upon receivng signatures (of which she performs with the utmost artistic ability via her mouth) on new CDs purchased or on books written by Lena that were brought from home, children and parents alike left saying "She has given us so much courage!"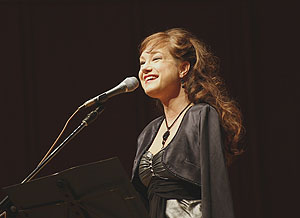 Lena's Attractive Smile
Our staff members and other musicians were all astounded not only by her professional music ability but also by her charm and great smile. I (Nami) especially learned many many things from her as an entertainer.
This concert, as a part of our activities which aim to bring about the realization of a Universal Society, also held a three way conversation between Ms. Toshiko Hamayotsu (upper house member and vice president of the project team for universal society in the ruling party), Mr. Taturo Yada (Mayor of Kobe city), and Nami. We also received a videotaped message from Ms. Seiko Noda (Minister of Consumer Affairs and the president of the project team for universal society in the ruling party).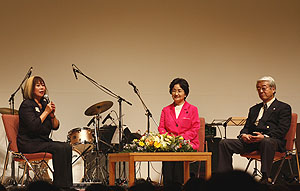 "Talking about a Universal Society"
between Nami, Ms. Hamayotsu, and Mayor Yada
(from the left)
Seiko-san, Hamayotsu-san, and Mayor Yada, thank you very much!
We are truly grateful to everybody who participated and cooperated in this wonderful event.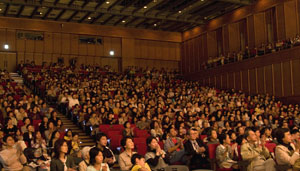 Full House Audience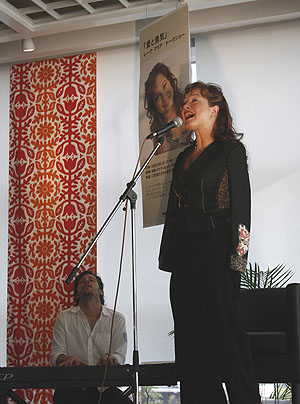 Lena (on the right) singing at IKEA,
the Swedish Funiture Store
and Pianist Sebastian Robertsson(on the left)
.
The Sweden-Kobe friendship tour that was held the following day was a huge success! With a fully packed bus, we traveled around Kobe enjoying sights from our seats as well as on foot before enjoying lunch and ultimatley ending up at the Swedish furniture store IKEA. Once there, Nami conducted an interview on a talk show with Lena-san about the different aspects of growing up and challanges she had overcome in her life. After sharing with the audience a brief history of her story and about herself, Lena-san was warmly welcomed on stage by fans and enthused IKEA staff alike and concluded our tour with the singing of two beautiful songs.
We will be providing a short documentary of the concert and tour events available to you soon comprised of video clips that will be posted on this website.
Thank you very much!
By Nami
Following are Pictures from the Concert
---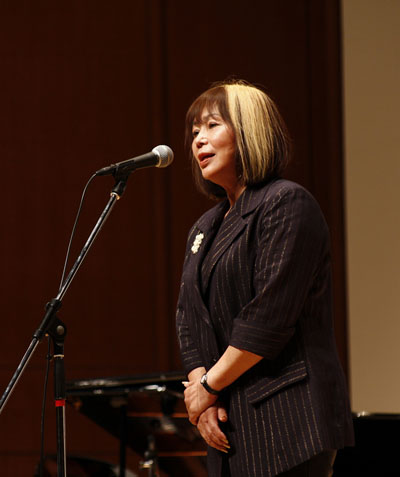 Opening Remarks by Nami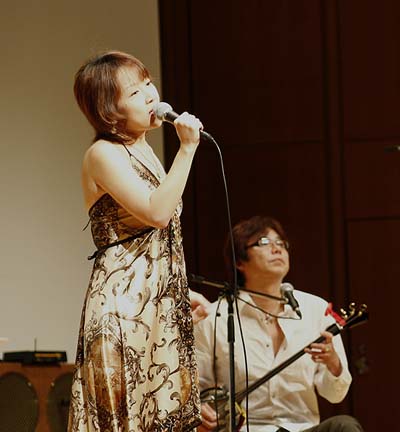 Opening Act by hizuki (on the left) and Samisen Player Mamoru Miyagi (on the right)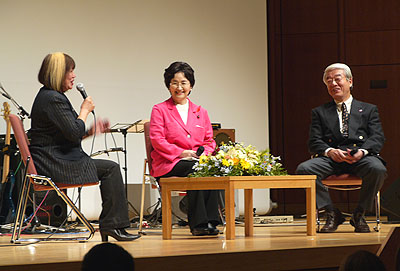 "Talking about Universal Society" (Nami, Ms. Hamayotsu, and Mayor Yada from the left)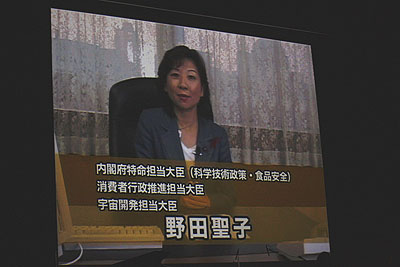 Videotaped Message from Ms. Seiko Noda
(Minister of Consumer Affairs)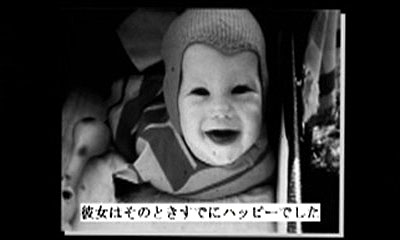 "The History of Lena Maria" the insspirational video played at the concert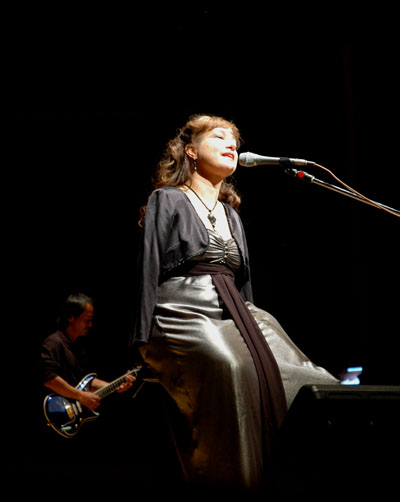 Lena's First Set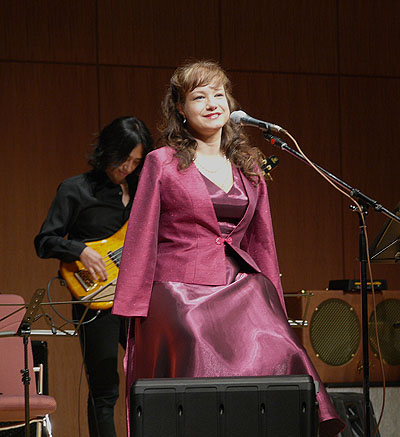 Lena's Second Set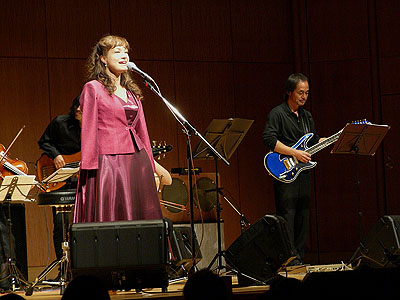 Lena's Second Set with Billy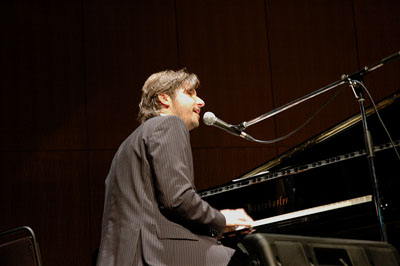 Mr. Sebastian Robertsson, Pianist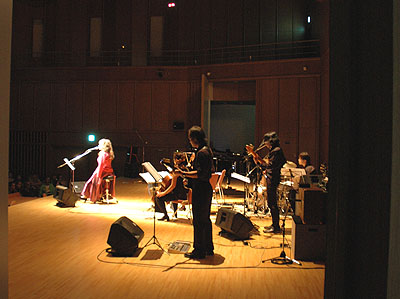 From the Right Wing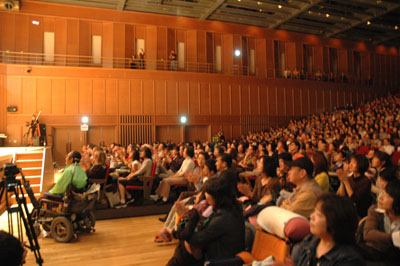 Enjoying the show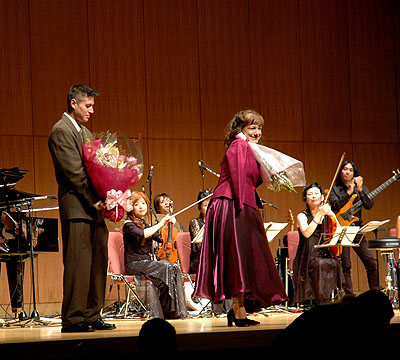 Lena Receiving Bouquet (on the right) and Billy Jr. (on the left)
If you want to know more about Ms Lena Maria, Please visit her website ' Lena Maria'.