My Daughter's Birth was the most Fortunate Event in My Life!
Jun 14, 2011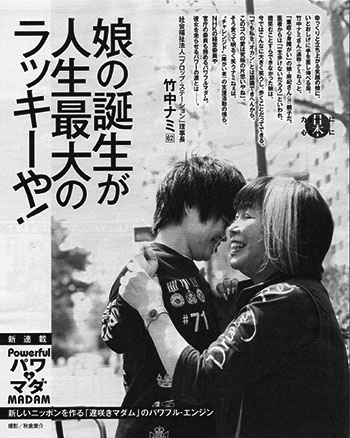 With a beaming smile, a young woman slowly tries to rise.
Her mother lovingly extends a helping hand.
The two are Nami Takenaka (known as Nami-ne) and her 38 year old daughter Maki born with severe disabilities.
Soon after Maki's birth, doctors said that she would never be capable of walking.
Nor would she be able to smile.
But to this day, Maki walking and smiles all of the time.
"My daughter is unable to comprehend that I am her mother.  So my love to her is an ultimate unreturned love."  Nami explains this in her always cheerful attitude and added laughter.  While working to support the "Challenged" (individuals with disabilities), she also serves on the committee for NHK and as a member of Office for the government.
She is a powerful woman.
Where does the source of her power come from?
The Director of Prop Station
Nami Takenaka (Age 62)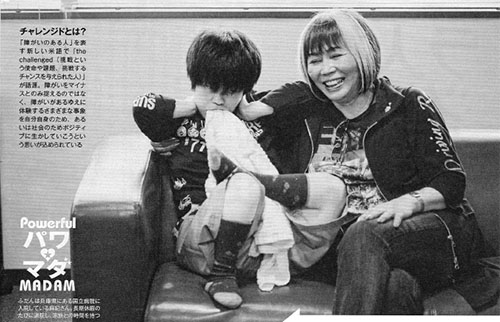 While Maki usually stays in the care of a hospital in Hyogo, she spends holidays out with family members.

What does the phrase "the Challenged" mean?

The phrase "the challenged" is a newly coined American term meant to describe people with disabilities, without restricting the expression to negative connotations. Those with disabilities are thus "challenged" to overcome certain difficulties and in doing so, have the opportunity to realize their own strengths and abilities to overcome and utilize in a positive way what would normally be regarded as a "disability" for the benefit of society as a whole as well as for one's own self.


(The photos provided by Nami Takenaka)
Nami, around 7 years old in Kobe
This photo was taken during Japan's traditional Shichi Go San festival celebrating a child's growth and bright future.  As her house was completely destroyed in the Great Hanshin Earthquake, this is one of the few photos she has left of her childhood.
A bride at 16
Nami married her boyfriend she had met at a part time job.  She had been expelled from school for the two of them living together while unmarried.  She divorced at age 45.
Nami (Age 34) and Maki (Age 8)
Maki with friends from the hospital.
Nami and Maki at right.
Founded Prop Station at age of 42
This photo was taken soon after Prop Station was established.
The word "Prop" is a rugby position meaning "to support"
Singing at a Live Concert (Age 60)
As a vocalist in the "Nami-ne BAND", she holds live concerts monthly.  With her powerful singing voice she belts out the lyrics to one of her favorites "Rokudenashi"(Scoundrel).
With the summer wind blowing, Maki swings her arms up with smiles and delight.  Nami explains with a grin, "Since childhood she has always loved the sensation of the breeze on her skin, but it wasn't until recently that she began smiling like this."
Referring to people with disabilities as "the Challenged ", Nami is the founder and director of "Prop Station", a social welfare organization that supports independent living and employment for persons with disabilities.  She has also served as a committee member for NHK and the Ministry.  Aside from her work, she is a tender-hearted mother ever watching over her infant-like daughter.
From delinquent to responsible mother.
Born in Kobe in 1948, Nami's tendencies to stray from the "social norm" began at an early age.  Her habit of running away began to flourish while in middle school, by the time she was in high school she had met an older man and the discovery of them living together led to her getting expelled at the age of 16.  They eventually married and at the age of 22, Nami had her first child, a boy.  She was always cheerily referred to as "Nami-ne" (big sister Nami) by the neighborhood children.
When she was 25 she gave birth to her second child, Maki.  This would become a major turning point in her life.  Born at 4 pounds 15 ounces and lacking the ability to breast feed, her child would hardly gain any weight for the next 3 months.  It wasn't until then that doctors diagnosed her as having severe brain damage.  There was no cure for her medical condition.
The shock of this revelation hit Nami's father the hardest.  Caring for his daughter more than she had fathomed he took Maki and explained, "With this child in your life, you will never be able to be happy… I will sacrifice myself along with this baby to spare you a life of sadness."  Understanding the seriousness in her father's expression Nami vowed to herself, "I will never again show any sign of distress, I will never complain before my father's eyes."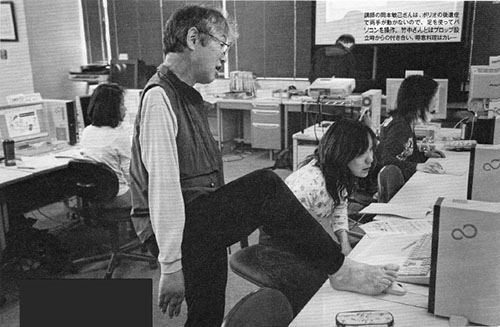 One of the PC instructors, Toshimi Okamoto lost the use of his hands due to Polio. He operates the PC by using his foot. He and Nami have been associated with each other since Prop Station was established. He is a master curry chef
The "All Challenged Instructors" seminar at Prop Station.
Prop Station holds PC seminars at the Kobe Network Center and Tokyo Office for the elderly and the Challenged who would like to improve their PC skills and further their employment opportunities.  We have basic courses catered to beginners just learning how to use PC, courses for programs like Word and Excel, and advanced courses for those interested in computer graphic design.  Individual tutoring is also available.  Working together with various companies we have provided support services and employment opportunities, and frequently exchange ideas with other Challenged individuals whom have the desire to be independent.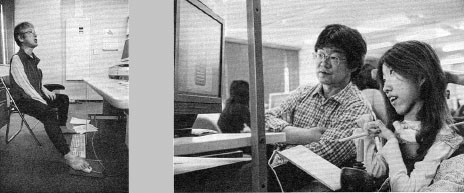 At Prop Station, instructors and students are Challenged. Individual tutoring and e-lessons are also available depending upon the student's disability and physical condition. (At right)
Toshimi Okamoto delivering a lecture utilizing a mouse and keyboard located on the floor. (At left)
Nursing, parenting, hard work, and volunteering.
Due to Maki's abnormal skin condition, she would cry out in pain the instant her mother touched her body. The chance to bond while her mother cradled her in her arms would be an impossibility. Often crying and at times violent, the care that her daughter required left Nami with only 2-3 hours of sleep per night for many years.
Although married, her ally in life wouldn't lift a finger to help her. He held the traditional Japanese male viewpoint that "Child care and housework are a woman's responsibility". Still Nami never gave up. She began reading various medical books to expand her knowledge on how to care for her child. Gathering information on the social welfare system she would often visited medical professionals with a slew of questions that would begin to bring annoyed responses to her persistent questions. Simultaneously, she began to get involved in volunteer work at institutions catering to people with severe disabilities.
She says, "The more hardships I face the more power I get. I was a delinquent growing up and hated bending to the rules of society. I believed that I magically would be able to live my life without obeying social rules. By having my daughter who is completely apart from the social norm, I have come to return to a proper track in life and proudly step forth each day. Maki's visual ability is limited to only light perception and she still doesn't know me as her mother. She has however come to show me her smiling face and has come to grasp my hand back when I hold hers. She develops slowly but she certainly has grown. She has taught me patience and has given me the ability to step back every now and then to grasp the big picture and realize what is important in life. She has been a great teacher to me and changes my life for the better each day!"
Let the Challenged Become Taxpayers!
Nami eventually divorced her husband. When Maki was 20 years old Nami admitted her daughter to a national hospital. Making the best use of her experience and connections she made through her volunteer work, she established Prop Station in order to support independent living and employment opportunities for the Challenged in 1991. She was 42 at the time of its foundation.
In Japan, an untrue myth circulates throughout society that Challenged individuals need to be protected and supported by social welfare. In the past, deciding on what organization would take care of which people with certain disability traits often led to quarrels and became very disheartening. I believed there were many Challenged individuals that would jump at the chance to be integrated into the social workforce and contribute to society. The mission of Prop Station, "Making Japan a society where the Challenged can become taxpayers" implies that the Challenged can express their pride and self respect as individuals through employment.
In the 20-plus years since the foundation of Prop Station, its philosophy remains unchanged. Two shining examples of success in the field of human resources are Toshimi Okamoto (PC seminar instructor at Prop Station) and Rie Kubo (picture book illustrator). With skills they acquired at Prop Station they went on to become professionals in the workforce.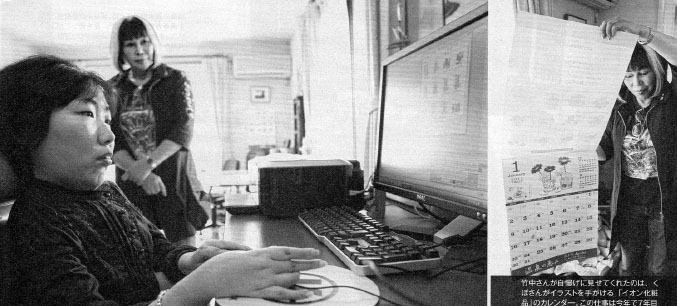 Nami proudly shows a work piece of Rie Kubo who creates illustrations for the calendar produced by "ION" (a well-known cosmetic company in Japan). She has received work orders from the company for 7 years.
The Challenged becoming professional from Prop Station.
With skills acquired at Prop Station, a number of the Challenged have gained employment and become taxpayers, illustrator Rie Kubo is one of them. She has illustrated for corporate advertisings and has published two picture books. The philosophy at Prop Station is not to "get work for the disabled", it's about teaching recognizable skills to those seeking professional ability.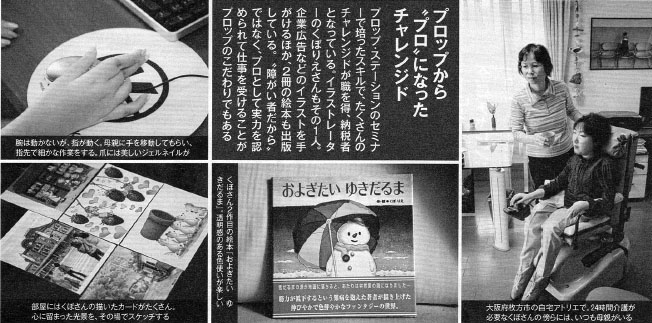 In her home studio in Hirakata, Osaka. Her mother is always with her as she requires full time care. (At right)
Her second picture book, "A snowman wants to swim." The pictures look so beautiful with their transparent color combinations. (In the middle)
Although her upper limbs are immovable she can move her fingers. Her mother moves her hand so that she can do detailed works with her fingers. She has painted beautiful gel decorations on her nails. (Upper left)
Various picture cards she has produced. She sketches a landscape from an image in her mind. (Down left)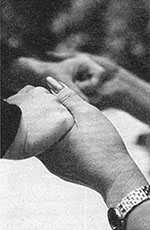 The love to her daughter is a source of her power.
Maki's brain damage however, is extremely severe. In reality, it is impossible for her to become financially independent like others. What still keeps Nami motivated in order to improve the social status for the Challenged? "If my daughter's disabilities had not been so severe, I would have focused on only her. She isn't capable of working. So, the Challenged who are able to work should be able to become financially independent if they choose to do so. I would like to make Japan a society where people with severe disabilities like my daughter can live in dignity and my dream is to be able to die peacefully knowing that Maki is in a society where I won't have to worry the slightest bit about her wellbeing. Simply speaking, it's just my "selfish motherly" attitude to my daughter. LOL!"

From the power of a mother's love, Japanese society is changing.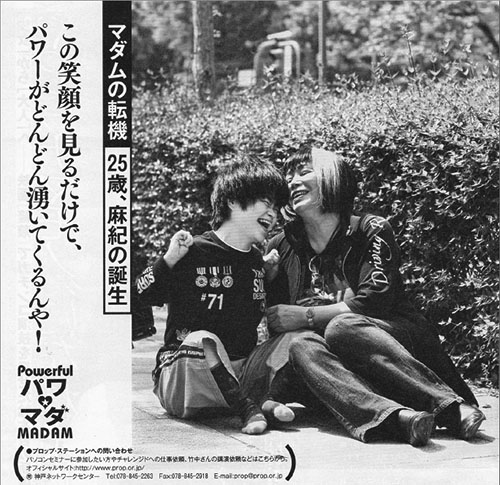 Nami Takenaka's turning point, the birth of her daughter at the age of 25.
"Just looking at my daughter's smile fills me with more and more power!"