People helping people.
How a "link" leads to creation.
Brought together in the aftermath of chaos,
a new understanding is born as people unite.
TOYO KEIZAI April 9, 2011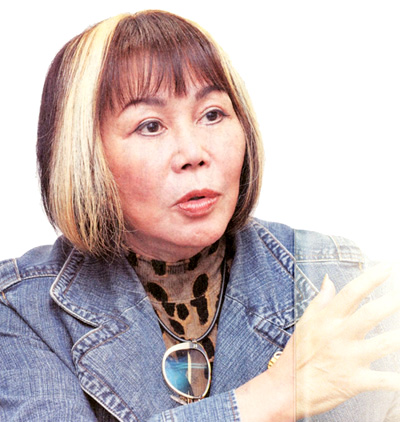 "Making Japan a Society where the Challenged can Became Taxpayers" Prop Station, established in 1991, has been chalking up an impressive track record in providing employment opportunities for individuals with disabilities through the use of ICT (Information and Communication Technology). According to Nami Takenaka, the Director of Prop Station, it was during the aftermath of the Great Hanshin-Awaji Earthquake of 1995 that the usefulness of ICT became more widespread, opening doors to new ideas and allowing Prop Station to make great leaps forward.
The negative undertone of the word "Handicapped" has led to the now commonly used term "Challenged" in the United States when referring to a person or people with a disability. But beyond its use in this way, the term "Challenged" can refer to anyone facing a hardship or difficulty in life.
This being said, the survivors of the disastrous Great Eastern Japan Earthquake can also be described as "challenged". Though they may not be faced with a disability, they are forced to endure the hardships brought on to them by their loss of property and in many cases, the loss of family members and loved ones. I believe however in their strength to persist through these extraordinary challenges and in their ability to be able to confront these difficulties in times of crisis. I am able to relate to the hardships that these people are faced with as my personal life as well as my professional life with Prop Station was thrown into chaos when my home was destroyed in the Great Hanshin Earthquake.
Use of the internet has come a long way since the time of the Great Hanshin-Awaji Earthquake. In those days, the "Challenged" were the main users of this method of communication. With cell phones now able to provide a world of information at your fingertips, it's no wonder that its use has become so widespread. The nets ability to allow its users to gather information or send and receive messages makes it invaluable during times of crisis or emergency.
Established in the Hanshin area, Prop Stations members all felt the devastating effects of the Great Hanshin-Awaji Earthquake. It was the connection through a PC that allowed us to quickly access and relay information to our fellow staff members' wellbeing by posting messages of "Is so-and-so okay?" or "I'm alive and fine". After the staff's safety was accounted for, a member whose disabilities confined them to a bed began to realize the potential in this way of communication and had an idea "Although I may be bedridden, there must be something that I can do to help others"
At that time, only a few services such as Nifty and PC-VAN were available online throughout Japan. Challenged staff at Prop Station decided to begin utilizing these online message board services to help others. By posting on a message board, many people can simultaneously read or respond to the same information. In one instance, a person seeking information about a bathing facility that could accommodate those who use wheelchairs posted a message on the online message board. Others who read the message and knew of such a place were able to respond. With the question answered that person then asked a volunteer to post the information on the notice board of their nursing home for the benefit of those without access to a computer. This was a much more powerful was to communicate as it enabled you to interact with a great number of people as opposed to the traditional one-on-one method that a telephone or fax machine provides.
Also victims of the disaster themselves, the Challenged staff at Prop Station were able to make use of communication networks in this way to support others. The term "Computer Volunteer" became a familiar phrase among the people of Japan because of their actions and assistance.
Before the state of shock had time to fade, more and more people began connecting with others through computers. It was during this time that I started to realize the powerful capability of a PC. A machine that was once misunderstood and criticized as just an "expensive box", would soon become an invaluable tool in peoples everyday lives. Its ability to allow people to communicate and support one another is why we at Prop Station refer to "IT" as "ICT" (Information and Communication Technology).
Greater understanding leads to greater Success.
Before the Great Hanshin Earthquake I had always believed in the government's ability to provide social welfare services. The truth is that after the quake, the damage rendered to both the government and private sectors left the people with no option but to fend for themselves. During this time of uncertainty, it was the Challenged's previous knowledge of ICT that allowed them to greatly contribute to the restoration of Kobe through their actions in creating community-based support groups.
Even when times seem at their worst we must never lose hope. If the survivors of this recent disaster join hands and help each other I believe without a doubt that they will prevail through these hard times. Only through mutual support and heartfelt actions were we able to rise from the devastation of the Great Hanshin Earthquake.
The word "Prop" in "Prop Station" is in actuality a synonym for the term "support". By interacting with individuals through the use of computers, Challenged staff members at Prop Station were able to support the community and greatly help others during the reconstruction process. "People helping people" became a key phrase throughout the restoration period after the Great Hanshin Earthquake.
I am the director of the aforementioned Prop Station. As director, I find myself sometimes evaluating my own leadership skills. I believe that strength and charisma are essential attributes for a leader to poses but rather than dwelling on whether or not mine are up to par I've come to realize that my strength lies in connecting others.
I often refer to myself as "the link". I try my best to bring together and strengthen the bond between society and people with disabilities. If an activity should arise at Prop Station that requires outside help, I won't hesitate to take action. Sometimes this means swimming with sharks but I put a lot of heart into what I do and look forward to new encounters.
Prop Station cooperates with many people and organizations including government agencies and corporations. The biggest chance for people with disabilities to obtain employment opportunities and become taxpayers themselves often comes through these partnerships.
However, approaching such companies and organizations and just making a request for them to hire people with disabilities is absolutely useless and will get you nowhere. Every organization has its own system, its own way of doing things. It is essential for me to formulate an idea that is not only in line with that system but also beneficial to both parties. And on a little side note, being pushy if they happen to not comply with your wishes will never result in your desired outcome.
Seeing things from someone else's point of view is necessary when talking to people. While communicating with them, I think about their standpoints, ways of thoughts, and logical structures. I tell them how by working together we can create a more powerful society and explain the benefits that both sides stand to gain in the partnership while at the same time being receptive to their opinions, thoughts, and suggestions. This is how a strong bond is born and how I fulfill my role as the link. Only once we are able to relate with one another will something new be created which is why I believe that putting yourself in someone else's shoes bears great significance in making a connection with others.
As I mentioned earlier, the term "Challenged" isn't meant to describe only individuals with disabilities. Japan is a country in which society is aging and the number of people who need care has been increasing. Now is the time that we must develop a "Universal Society" (a society where all people can exert their full potentials, regardless of age, gender, race and ethnicity, or disability). I can tell you that all citizens of Japan now bear this "Challenge". I hope that I will be able to continue to create links between people and complete this chain to form a "Universal Society".