A Conversation with Kazuhiro Haraguchi,
the Minister for Internal Affairs and Communications
January 5, 2010
This is a translation of the conversation between Mr. Haraguchi and Nami from an article that appeared in the February 2010 issue of the monthly magazine "New Media".

Kazuhiro Haraguchi, the Minister for Internal Affairs and Communications and Nami Takenaka, the Chairperson of Prop Station have strived toward the same goal in allowing the Challenged in Japan to become tax payers.  Mr. Haraguchi and Ms. Takenaka's conversation touched on a variety of subjects such as the Hatoyama administration's effort for a realization of a nondiscriminatory society in which people with disabilities can proudly live and work, the various ways in which the Challenged can contribute to society through the use of ICT, and the issue of producing commercials with closed captions in terrestrial digital broadcasting.

"The Ministry for Internal Affairs and Communications will immediately develop its own solutions for the issue of producing closed captions."

Disability isn't caused by persons who have disabilities but social attitudes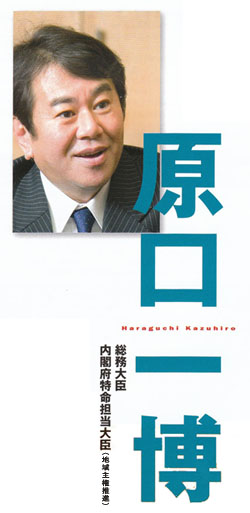 Haraguchi: "The Challenged can become tax payers."  This is my basic idea. Ms. Nami Takenaka, please let me call you Nami.  I first met you10 years ago on which happened to be my birthday.  
Later, I became a vice chairman and developed clauses for the United Nations Enable Rights and Dignity of Persons with Disabilities.  Prop Station and Sweden's Samhall are model organizations, opening the doors for the Challenged to be able to work and become tax payers.  Samhall is a company whose workforce includes 30.000 employees with disabilities.  Samhall's mission statement is "Disability isn't caused by persons who have disabilities but social attitudes.  We need to get rid of the barriers created by the society."  ICT is one of the tools to remove these barriers.  

Nami: All of the Challenged have their own capabilities and it would be a waste not to fulfill their potential.  Therefore, I think we should take action by using Information Technologies, some professional help, legal changes, and anything else necessary in order for them to be able to make significant contributions to society and live proudly.
And if they become tax payers, this country will be able to secure financial resources needed to protect persons with severe disabilities who are unable to work.  It will be impossible for us to run this country so long as we think only healthy young individuals should work and support the nation.  To me, the brilliant thing about you (Mr. Haraguchi) is that you had a deep understanding of this before you were a politician.

Haraguchi: When people with living and working difficulties meet you, I'm sure they come to realize their own true strengths.  When I was a child I seldom went to school due to my family environment.  So, whenever I went to school, I was always getting into trouble.  When I was a 5th grader, my teacher gave me a book titled "Your Possibilities".  This book was about a death-row inmate.  He was never praised during childhood and was eventually sent to the gallows for murder.  While in prison he created Tanka (Japan's oldest form of poetry).  He sent a letter expressing happiness to a teacher who at one time had expressed admiration of a painting of his and taught him about what his strengths were.  His beautiful poems were all that were left of him. 
I didn't have a desk or chair in my classroom although my name was still listed on the roster.  I didn't fit in there and there were times when I even thought I shouldn't have been born.  However, through the teacher in the book, I realized that I had unlimited potentials.  If it had not been for that book, who knows how my life would have ended up.  And when I met you Nami, I felt like I was meeting that teacher.   
The ICT Cooperative Education for sharing information
Nami: ICT has numerous possibilities in ways of aiding the Challenged.  It has been used as a hearing, visual, and physical support for persons with physical disabilities before and now, ICT includes software that allows individuals with developmental, psychiatric, and intellectual disabilities to develop their capabilities.  At Prop Station, students with various disabilities learn computer skills with others who have disabilities.  Now, some of these former students are able to teach others including students with mental retardation and developmental disabilities because they already know how to work with these students in a learning environment.  For instance, an instructor who operates computers with his foot has shown a middle school student who can read only Hiragana how to use an Illustrator, and the student now fully utilizes the program.  I've seen a lot of Challenged become capable in using computers. 
Unfortunately, Japanese society is not aware of their capabilities yet.  There is   still a widespread belief that people with disabilities are unable to acquire computer skills.  ICT hasn't been considered as a great tool for the Challenged as well.  We will be appealing to society for the integration of this way of utilizing ICT.  I would like you to give us your help as Minister for Internal Affairs and Communications.  I hope we can collaborate to let the world know about the possibilities of the Challenged with the prevalence of ICT.

Haraguchi: Let's work on it together.  Money for ICT Cooperative Education is included in next year's budget.  As you said to me, it's possible for students to eventually become instructors through the educational program.  Education seeking for only "a right answer" resulted in cutting off children who were out of social norms.  This learning program won't focus on finding "right or wrong" answers, the students will be able to share what they learn, collaborate with one another, and educe their potentials together through ICT.  I think we have the various tools necessary to make a serious attempt on these possibilities.        
Failing to provide "Reasonable Accommodations" in order to remove social barriers is discrimination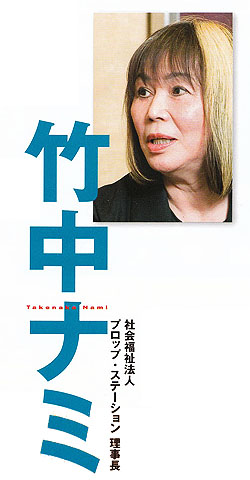 Nami: Terrestrial digital broadcasting is another tool we can utilize to remove the social barriers of sharing information.  Commercials account for 20% of all airtime on T.V. but they are always broadcast without closed captions.  I received a letter from Mr. Bill Gates about a dozen years ago.  He said that closed captioning is useful to everyone.  There's no wonder that all TV programs are subtitled.  In Japan, closed captions are viewed as a part of social welfare programs for people who are deaf or hard-of-hearing.  Commercials are used for the selling of products, but some audiences have a difficult time understanding of the selling point of the product without closed captions.  For instance, my friend who has a hearing loss asked me, "I see a white dog barking in commercials very often but what is that?"  She couldn't understand the main point of the commercial.  I insisted on the need of closed captions at the Information and Communication Council.

Haraguchi: Terrestrial digital broadcasting will offer various options to us including subtitling. It will allow us to do what we currently cannot do with analog broadcasting.  I think that through this we will be able to ensure that necessary information can be provided to the Challenged.

Nami: Although Japan has the best technologies in the field of ICT, subtitling commercials for terrestrial digital broadcasting seems to be unattainable.  At first, I heard that the standards of the industry would make it impossible to implement subtitles into commercials. I was also told that it would be technically difficult, and I wondered if these reasons were true or not.

Haraguchi: We have started our initiative in anticipation of the ratification for Convention on the Rights of Persons with Disabilities.  Providing "Reasonable Accommodations" is included in the core provisions.  It is defined that failing to provide reasonable accommodations is discrimination.  We immediately will develop strategies to provide subtitle for commercials.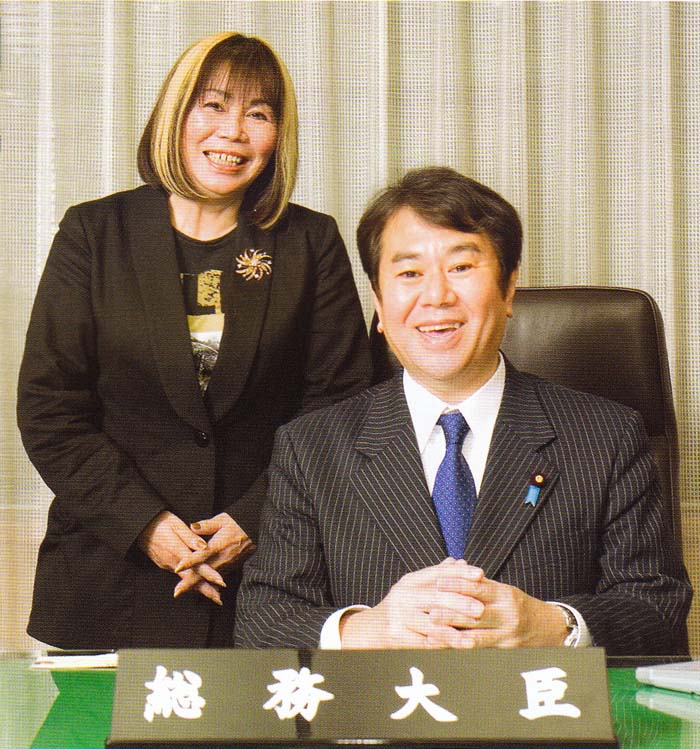 The Disability Basic Act and Universal Society Basic Act
Nami: In the United States, the Americans with Disabilities Act (ADA) states that "Americans with disabilities have the same rights as Americans without disabilities in ways of living conditions, learning, working and paying taxes.  Invading these rights should be considered discrimination."  On the other hand, people with disabilities are still treated as a "particular population" in this country.  For example, children with disabilities are allowed to learn only in specific educational environments and people are provided employment opportunities only when a company has to fill a legal employment rate (1.8%) for individuals with disabilities. Japanese society neither expects the Challenged to play an active role in society nor does it expect them to support the nation.
We have to ameliorate such social attitudes toward people with disabilities.  I strongly believe that Japan cannot manage as a nation because the number of people being treated like "ineffective populations" gradually has been increasing in our aging society.

Haraguchi: I was interested in the background of the ADA when it got passed during President George H. W. Bush's administration and I did research on it while in the States.  I wondered why the legislation was enacted in a Republican administration, and not in a Democratic administration.  I realized that it was because of the change in government officials' awareness that led to the establishment of the ADA.  The Cabinet of President Bush's administration learned about the rights for people with disabilities.  By sharing the information they learned, they started to think they needed to take action. Then the action ended up changing the law.  We are developing our own new ideas for the Disability Basic Act now.  It clearly defines that government policies should be formulated for all citizens.

Nami: I've worked toward the realization of a Universal Society Basic Act.  People's awareness and changing of a law are related to each other.  Changing awareness can result in forming a new social system.  Our awareness might change only when a new system is established.  Some people ask me what the point of enshrining the measure into law is.  America enacted the ADA for people with disabilities.  Likewise, I would like to make provisions for a system of a Universal Society Basic Act.  In April 2009, the Democratic Party clarified the basic ideas for persons with disabilities.  One of those ideas was "Not just a barrier free society but a universal society should be formed".  I have great hopes in the new government.  
ICT is a tool that we can utilize to remove the barriers created by society. And failing to exclude these barriers through ICT is discrimination.
Japan hasn't realized how great a tool ICT can be for the Challenged, and we need to learn how to take advantage of ICT to develop the potentials that these people posses.
Kazuhiro Haraguchi

Minister for Internal Affairs and Communications
Minister of State for Special Missions
1959-Born in Saga
1983-Graduated from the University of Tokyo
1987-Selected to the Assembly of Saga Prefecture
1996-Selected to the House of Representative
2009-Minister for Internal Affairs and Communications
Nami Takenaka

The Chairperson of Prop Station

Born in Kobe in 1948, Nami Takenaka has a daughter (37 years old at present)  who has serious brain damage.  Having a child with a disability, she acquired knowledge of medical care, social welfare, and education for children with special needs on her own.  In 1991, Prop Station was established and Takenaka initiated grass-roots efforts for persons with disabilities.  In 1998, Prop Station was granted recognition as a Social Welfare Corporation by the Minister of Health and Welfare and she took her position as Chairperson.  Takenaka has continued her efforts for independent living and social participation for the Challenged, particularly employment opportunities through making full use of ICT.  With the slogan, "Let's make Japan a society where the Challenged can become tax payers!' she has hosted "The Challenged Japan Forum International Symposium" since 1995. Takenaka served as a committee member for the Fiscal System Council of Ministry of Finance, the Information and Communication Council of Ministry for Internal Affairs and Communications, the Central Council for the Promotion of Measures for Disabled Persons of Cabinet Office and a supervisor for the Free Mobility Supporting Project of Ministry of Land, Infrastructure, Transport, and Tourism. Takenaka has published her books, "The Challenge of Prop Station" and "A Lucky Woman".