The Kobe Sweets Consortium (KSC) in Tokyo

The Kobe Sweets Consortium (KSC) in Tokyo
We will invite Mr. Noriyuki Nagai, a well-known French pastry as an instructor!
April 1, 2009
It's Nami-ne. The Kobe Sweets Consortium (KSC) completed the Challenged Program Vol. 1 without troubles last year. As for the Kobe Sweets Consortium in Tokyo, the Challenged Program Vol. 2 will be starting in June with support from Nisshin Seihun Group Inc. and other sponsoring companies in the confectionery industry.
The Challenged Program of the KSC is the first attempt in Japan under the mission,"Producing a number of Challenged to be an active part in the pastry industries". The mental and psychiatric challenged who have worked for confectionery making acquire professional recipes and techniques by direct trainings from the fist- class- pastry chefs.
The KSC is not a project with the concept of, "Feeling the need to buy products out of sympathy because they are made by people who have disabilities". This is a project that provides the best confectionery ingredients and training through sponsoring companies and techniques taught from first-class-pastry chefs in order to produce truly delicious pastry. It's a project for making their dreams come true.
For the KSC in Tokyo, we will welcome our instructor from last year, Master Junji Yagi (Technical Director, Morozoff Ltd/Authorized Confectionery Master by Austrian Government). Additionally, Master Noriyuki Nagai, the first-class-pastry chef who is running a well-known French pastry shop, "Noliette" in Tokyo will serve as an instructor voluntarily to the project. I hope you will be able to learn the essence of both Austrian and French confectionery in the KSC this year.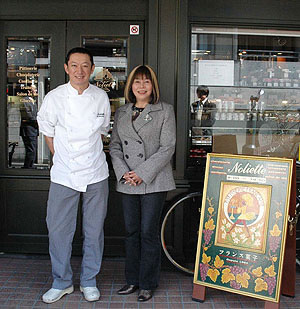 Master Nagai & Nami-ne
I visited "Noliette" on March 30 and had a business meeting with Master Nagai. Coincidentally, he has a daughter with Down Syndrome. As her father, he has seriously thought of how individuals with disabilities could be productive and live independently in society for a long time. Master Yagi accepted the offer as an instructor of the program enthusiastically because he also had a son who had autism. It was surprising and amazing that Master Nagai was a family member of the challenged as well. With my daughter Maki being my inspiration, I put sincere effort in promoting the employment opportunities for the challenged at Prop Station. I believe in the immeasurable power that the challenged possess and it is through people who recognize this power and potential as well that this project was able to be created and brought to society.
Master Yagi, Master Nagai, Nisshin Seihun Group Inc, and Prop Station will work on the Kobe Sweets Consortium in Tokyo together. Please be patient as the course program and application information will be announced!
A set of DVDs and booklets that contain recipes from the program for last year will be released soon. This DVD shows Master Yagi's confectionery techniques, such as use of hand skills and the variations of dough on the process to completion. Moreover, the booklet includes kanji with furigana readings and has photos for showing the processes of pastry making in detail allowing the reader to get the points of confectionery making easily. We might be able to offer the DVD for half of the conventional price (5,000yen) to those who are involved in pastry making at sheltered workshops and other social welfare organizations.
by Nami-ne