The Kobe Sweets Consortium (KSC) is Underway

We are steadily working on the Kobe Sweets Consortium (KSC). KSC is a project in which top pastry chefs give lectures to challenged individuals who aspire to become pastry chefs. This consortium was formed by Nisshin Seifun, Nitto Shokai, and Prop Station along with the support of many companies. We are hereby pleased to announce that Mr. Junji Yagi was selected as the main instructor for the class.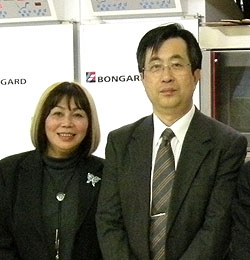 Nami and Master Yagi
Mr. Junji Yagi is the technical director of Morozoff Limited, and holds the title of Austrian Cooking Master. Particularly well known for his Sachertorte chocolate cake of which he keeps in demand by limiting himself to creating only ten a day, he took on this role as the main instructor of KSC despite his busy schedule of performing key roles in organizing training programs for professional chefs inside and outside of Morozoff. I appreciate his understanding of the idea behind the KSC as well as his great support.
To acclimate Mr. Yagi to his new students, we visited confectionery making sites where we could observe their work ethics. The staff members at these sites then attended his lecture on the crucial attitudes necessary for confectionery making.
While listening to his lecture, we were reminded again of the fact that the KSC training program is a place to learn not only the techniques of confectionery making, but also the fundamental attitudes toward it.
We will work on arranging the training sites and programs in detail. Keep checking this website or our mail magazine for new information including the application process.
Translated on 3/26/2008