Computer Seminar -for Prospective Students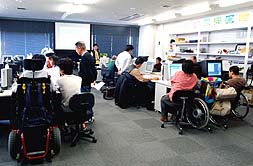 We offer computer seminars for the challenged, the elderly, or anyone who would like to enhance their IT skills.
We would like any challenged or elderly who are ambitious and motivated to work to try our seminars and get the business edge.
---
Advanced Skills Training for Challenged Individuals Seeking Jobs in the ICT Field in Tokyo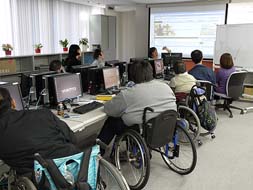 These training seminars are designed to open a path for those who wish to work by introducing ICT skills to people interested in high demand fields such as 'developing accessible websites', or 'adding closed caption to TV or movies on websites'. The instructors are first class professionals and the seminars are held at the newly opened Seminar Room in Nagata-cho, Chiyoda-ku (in front of Akasaka Mitsuke Station)
A photo of the "Standard Web Developer Training Course"(instructor Masayuki Morikawa and students)
---
ICT Training Seminar in Kobe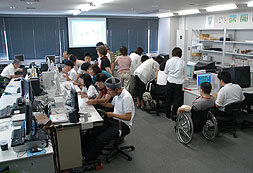 ICT Learning for students with disabilities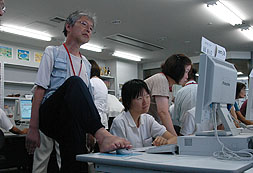 Instructor Toshimi Okamoto
who manipulates the mouse with his foot
---
Program List
---
WEB Programing Class-Job Assistance Class for People with Disabilities
Learn Web designing and programming skills needed in Website development.
PC Utilization for Hobby
Make New Year's cards/greeting cards with original graphics and illustrations using Microsoft Word.
Computer Class for People with Disabilities(Basic)
Learn basic PC operations such as how to start up and terminate a system, and how to utilize a keyboard.
Computer Class for People with Disabilities(Advanced)
Learn from basic to advanced operations of word processing and spreadsheet software.
Introductory Course for Illustrator
Learn how to create illustrations and logos. This course is recommended for people who would like to start in computer graphics.
Introductory Course for Photoshop
Learn basic operation skills on how to adjust and fabricate images. This course is designed for first-time users of Photoshop.
IT Skills Learning Seminar(Dreamweaver/Fireworks)
Develop Websites with Dreamweaver and Fireworks. This class is designed for people who would like to learn skills needed to enter this field of work.
IT Skills Training in Kyoto
This class is intended for the Challenged residing in Kyoto who would like to learn PC skills that are expected by companies and other computer oriented work settings.
ICT Learning for Special-needs School
Bring out the latent potentials of the Challenged through PC operation. This is a tutorial class.
One on One Course
We offer a variety of one on one courses such as basic PC skills, Word, Excel, Homepage Development, etc. for your convenience.