Billy, my younger brother, is coming home on a visit from the U.S.
Hi. It's Nami-ne.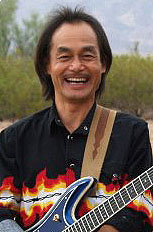 My younger brother Billy (Nozomu) moved to the U.S. and has been playing country music as a professional guitarist over 40 years. Living in Arizona, he leads a busy life recording and teching music classes in his music studio all while being a professional musician. Billy has scheduled to make a trip with his band, Junction 87, this coming April for their first concert tour in Japan based around Kobe.
-Billy, My Younger Brother-
You may already know Billy, for he has been assisting our overseas operations including the Challenged Japan Forum, as a chief of Prop Station USA. Let me back up the concert tour of my loving brother!
As a matter of fact, I love singing…, so I might just leap up onto stage and sing with his band. Who knows what will happen!
Nami-ne
For more information about Billy and Junction 87, click on the banner below. (you can also listen to their music)

---
Junction 87, Schedule for Concert Tour to Japan
Commemoration concert for the retirement of Shizuka-sensei
Date: 4/17/2008 Thr.
Place: Repas Chinois
Open: 5:30 pm
Start: 6:30 pm
MAP
Japanese Brochure .jpg (692KB)
Concert at Okamoto City Lights
Date: 4/18/2008 Fri.
Place: Okamoto City Lights, Okamoto, Kobe
TEL: 078-453-2999
Open: 7:00 pm
Start: 8:00 pm
MAP
Concert at Sannomiya VARIT (Prospective)
Nami will be on the stage performing her favorite songs!
-Check out Nami's Room of our Japanese site here!
Date: 4/20/2008 Sun.
Place: LIVEACT BAR VARIT, Sannomiya, Kobe
TEL: 078-392-6655
Open: 6:00 pm
Start: 6:30 pm
MAP
For more information including directions, please contact us at tokyo2017@prop.or.jp