Turning Out Pastry Chefs from Sheltered Workshops
Professional chefs introduce people with disabilities to pastry making
The Kobe Sweets Consortium in Tokyo was held in Chuo-ku, Tokyo this month. This was a direct training program taught by first-class-pastry chefs for people with disabilities who have future aspirations of becoming professional confectioners. The participants watched professional pastry making techniques with dreams of becoming great pastry chefs.
〔Report and photos taken by Yuko Shimizu〕
6/28/2009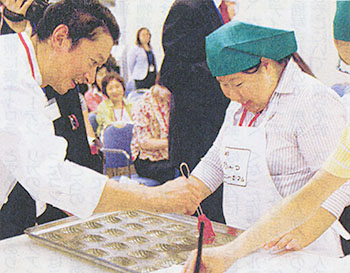 Participants learning the basics of how to make Madeleine from
Master Nagai (on the left)=At the Nisshin Seihun Group Inc.
Factory Processing Center in Chuo-ku, Tokyo
The Kobe Sweets Consortium was hosted by Prop Station (known as a social welfare organization in Kobe), Nisshin Seihun Group Inc (a milling industry), and Nitto Shokai Co., Ltd (a confectionary wholesaler)in order to give people with disabilities an opportunity to play active roles in the sweets industry. This course program was held in Kobe last year and the second one, held in Tokyo, began this year.
Ms. Nami Takenaka, the director of Prop Station called on the cooperation of 4 pastry chefs including Master Junji Yagi (the technical director of Morozoff Ltd and the first foreign national who was authorized Confectionery Master by the Austrian Government)for the course program, all of whom donated their time as instructors without compensation. The participants selected through their applications, were 9 individuals with challenges ranging from mental retardation to psychiatric disabilities. From the youngest of them being 23 to the oldest of them being 39, all participants were accompanied by their caretakers and held a previous knowledge of bread and pastry making through sheltered workshops.
First, Master Yagi demonstrated how to make madeleines based on an original recipe. "Mix the batter well until it becomes glossy." "Make sure to have the right quantity of ingredients." After hearing comprehensive details and witnessing the complete process for making madelines, the participants got a chance to try out the recipe for themselves.
Ms. Yuka Kikuchi, who has made bread at a small sheltered workshop in Miyamae-ku, Kawasaki said, "The explanation was easy to understand. I will improve my skills based upon the advice I got here."  Mr. Tomohito Utsumi, who has been involved in cake making at a cake shop in Kobe, attended the course last year. He has already gone on to produce his own sweets utilizing the skills he acquired and the cake shop has since increased in sales. He talked about his dream, "I would like to have my own café shop in the future."
Master Yagi, whose third son has a mild mental retardation, was concerned about pastry making in sheltered workshops. "It is difficult for people with disabilities to enroll in a culinary school, they lose the chance to learn from professionals although they have desires to learn.  I hope these participants will spread the skills they acquire here to others in their sheltered workshops after the completion of the program."  Master Noriyuki Nagai, a chef at a French pastry shop whose 11 year-old daughter has Down Syndrome also said, "Not only the pastry making techniques, but also we would like to teach the professional work attitudes to the participants."
Ms. Takenaka, who organized the event, had a daughter when she was 24 years old who was born with serious brain damage. She established Prop Station in 1991 and has been putting her efforts into independent living and employment opportunities for people with disabilities. She gets all fired up, "We would like to provide professional leaning opportunities to the challenged who aspire to become pastry chefs so that they may be able to create genuinely tasty pastries."
During the 6 sessions of the program that will be held until December, the participants will learn skills and techniques for making confectionaries such as mousse and other bread related pastries.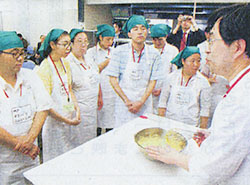 Participants listening to the details from Master Yagi (on the right)