2008 International Symposium on Realizing a Universal Society
-Opening Message from Nami at the 2008 International Symposium on Realizing a Universal Society
Hi! This is Nami. Our guest today for our International Symposium on Realizing a Universal Society is the Director of the Computer/Electronic Accommodations Program (CAP) for the U.S. Dept of Defense, Ms. Cohen. As a Challenged person herself, she takes an active role at the Pentagon with her belief that "the first step of our nation's defense is to let everyone share his/her role in society so that we can live with pride and confidence".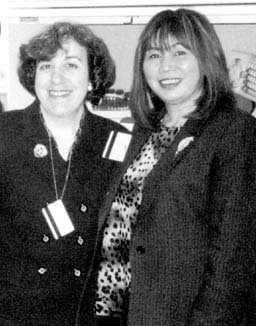 Ms. Cohen (on the left) with Nami
in 2000 at the Pentagon
I first met Ms. Cohen at an international workshop on telework in October of 1991 during my two week trip to Seattle as a commission member delegated by the Department of Labour in Japan. While talking with her in our first encounter, I realized that Prop Station had fundamentally the same goal as CAP's. In other words, I realized the slogan of Prop Station "Making Japan a society where the Challenged can Become Taxpayers" was equivalent to hers which is "to let everyone share his/her role in society so that we can live with pride and confidence". As soon as the beginning of the following year I visited the Pentagon to invite Ms. Cohen to participate as a special guest in the Challenged Japan Forum of 2000 in Tokyo, a symposium event hosted by Prop Station. The details of this story are in my book 'Lucky Woman'.
Since then Ms. Cohen has given us great support in many ways, such as joining in the Challenged Japan Forum of 2003 in Chiba via the Internet from the Pentagon, and also in visiting Japan to deliver a speech at the Challenged Japan Forum of 2005 in Kobe. I am sincerely honored to have Ms. Cohen again as a keynote speaker.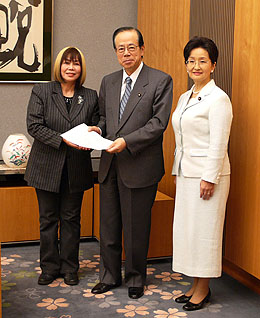 Nami, Prime Minister Fukuda,
and Ms. Hamayotsu at the Minister's Office
(from the left)
I would like to announce that Prime Minister Fukuda will also be participating in this symposium as a special guest. Appointed as a committee member of the Social Security National Council by him last January, I am very honored that the Prime Minister can be introduced to Ms. Cohen's Mission and Activities through this event. It was on the 1st of last February that I visited the Prime Minister's Office with Ms. Toshiko Hamayotsu (upper house member and one of the leaders of the ruling party project for forming a universal society), to give him an explanation of this symposium.
Mr. John Thomas Schieffer (U.S. Ambassador to Japan) and Mr. Shigeru Ishiba (Defense Minister) kindly accepted our invitation to this symposium as well. I hope that this event will be an opportunity to consider our social security system as well as reinforce our U.S.-Japan alliance.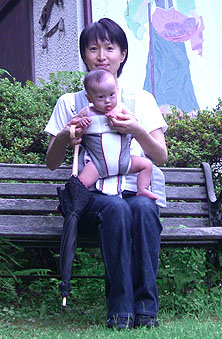 Recent Photo of Mit-chan
with her baby, Haru-chan
Last but not least, I would like to inform you that my close friend Mit-chan (Lawyer Mitsuyo Ohira) will also be participating in the panel discussion of the symposium. You may remember that I promised to hold a symposium with Mit-chan and her baby Haru-chan in the article titled 'new years greeting'. I thank Mit-chan and Haru-chan for making it possible for me to carry out my promise so soon.
Thanks to the combined efforts of many people, this symposium is under way. The activity of prop station, originated by the Challenged who are aiming to gain independence and social participation, is bearing more and more fruit year after year. We keep moving forward hand-in-hand and I believe this is the way to become a universal society where everyone can live with pride, regardless of age, gender, or type of disability.
Translated by Masanori Kondo on 3/11/2008